UpFront Guitars Music Lesson Program


If you are a

current student

at UpFront Guitars, scroll to the bottom of the page and Login in here for your current schedule, online resources, etc. available via MyMusicStaff:




"Music is a more potent instrument than any other for education, because rhythm and harmony find their way into the inward places of the soul." – Plato
All published rates are for private lessons and provided at the UpFront Guitars studio location at 2 South Maple Street #2, Bellingham, MA. For Semi-private and group lesson rates, please contact us.

First lesson for any student is 45 minutes. Subsequent ½, ¾, or full hour lessons may be purchased in packs of 3 sessions. Rates may vary among instructors and will be communicated to prospective students before scheduling.

Students pay for and schedule lessons through UpFront Guitars staff directly.

Rescheduling a lesson must be made at least 24 business hours prior to the scheduled lesson or the fee and lesson are forfeited. To reschedule a lesson, call 508-657-1817, and if we can't answer your call, please leave a detailed message. We will return your call to the number provided either in the message or on the student sign-up survey.

Masks are required in the lesson rooms for all students and instructors independent of vaccination status.

Here's how it works …
Student completes a survey (online or in person), and UpFront Guitars establishes instructor availability and best match.

UpFront Guitars sets date/time for the first lesson with both student and instructor and collects payment for the first lesson from the student.

Following the first lesson, the student may book subsequent lessons by calling or texting UpFront Guitars at 508-657-1817 or emailing studio@upfrontguitars.com.

Instrument Rental, if required by the student, will be added as a monthly charge. A separate rental agreement will be provided.

UpFront Guitars may solicit private feedback from both student and instructor to ensure continued satisfaction with the lesson program.

Meet Our Instructors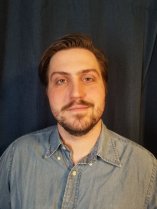 Instructor: Corey Beauregard
Corey has played guitar for over 15 years, and has actively played in rock, jazz and acoustic projects for over 10 years. He is competent in many genres, including rock, jazz, bluegrass, country, fusion and metal. He specializes in teaching via applied music theory and developing improvisation techniques. Ideal for beginner, intermediate, and some advanced students.
Lesson Offerings: Guitar, Bass, Mandolin, Theory


Instructor: Gordon Swanson
Trained in classical music – viola and choral music – Gordon has been playing guitar since grade school, and in jazz and rock groups starting in college. With formal guitar training in jazz, Gordon can help beginning and intermediate players with applied music theory, chord structure, scales and improvisation.
Lesson Offerings: Guitar, Bass, Music Theory
Instructor: Colin Stevens
Colin has been playing guitar for over 10 years and currently plays in a progressive rock band called Sunset Mission. His influences include Animals as Leaders, Heart, Black Sabbath, and others. Colin is currently studying guitar and music production at Berklee Online.
Lesson Offerings: Guitar, Music Theory, Music Production
Instructor: Sean Horan
Sean has 20+ years of guitar and music theory experience. He studied guitar, music theory and sound recording at the University of Massachusetts Lowell under professors John Wheatley (of the Supremes), Mark Michaels, Rick Schilling and Robert Keeler. With a background in Song Writing, Blues, Rock,Folk and Jazz, Sean's teaching style stresses a mindset in creativity, music theory as well as hand strength and dexterity. His musical influences include John Mayer, John Petrucci, John Coltrane, Miles Davis, James Taylor, Jimi Hendrix and the Beatles.
Lesson Offerings: Guitar, Music Theory, Song Writing (including lyrical guidance), Ukulele



Instructor: John McNamara
John has been playing guitar since age 7, when his Dad brought him home a guitar that someone at his office had given him. He has been in rock bands since age 15. He studied at Berklee School of Music in the mid-eighties and released a cd of music he wrote in 1998. Currently he is a member of the band Z Company.

Lesson Offerings: Guitar, Bass, Music Theory



Instructor: Ralph Rotondo
Ralph has over 3 decades of teaching experience. He is classically trained in the tuba and has mastered the 7-string guitar. Ralph's mastery of the 7-string combines his knowledge of both tuba and guitar into one instrument. He has taught at many public and private music schools, including the Lawrence Academy, Lincoln after school programs, Hanscom Air Force base schools, the Groton School and taught ensembles and lessons for Creative Arts for Kids in Reading. Ralph also has experience in web development and programming. Ralph is an extremely versatile guitar player, especially in classical guitar, as well as jazz. Ralph regularly gigs in jazz groups, as well as on his own in a solo jazz guitar setting.

Lesson Offerings: Guitar, Bass, Music Theory